What a joy to have Dr. Christina Pruitt on the podcast this week! If you haven't had a chance to check it out, you can find the link here. Dr. Pruitt is a family and cosmetic dentist as well as the mom of 2 young boys. She shared great information about the best ways to take care of your child's teeth including the role diet plays in dental health.
As a pediatrician I often counseled families about the importance of dental health, including the importance of twice daily brushing and regular dental visits. Besides recommending use of a fluoride containing toothpaste and limiting the amount to a "smear" for young children and a "pea-sized" amount for kids after age 3, I had not given much thought to which particular brand of toothpaste might be most appropriate for kids.
With my own children this decision usually depended on which particular cartoon character adorned the tube and would appeal to my child. Scanning the aisle, I usually looked for what was on sale, but beyond that some superhero or Disney princess usually sealed the deal. Once my child reached an age where "kiddie" toothpaste was no longer attractive (around 10 or so) I simply gave them tubes of whatever I used. Admittedly, that selection was usually based on whichever brands were available in bulk packages at Sam's Club and whoever did their best to market their extreme whitening power.
Among many things, the conversation with Dr. Pruitt brought to my attention that perhaps I should be giving more consideration to something called the RDA (Relative Dentin Abrasion) value of toothpaste, particularly for my kids. You see, many toothpastes, particularly those advertised as "whitening", contain abrasives that can damage tooth enamel. This is of particular concern for younger children as "baby teeth" do not have the thicker, stronger enamel of permanent teeth and so are more vulnerable to abrasives. At any age, weakened enamel can cause teeth to be more susceptible to tooth decay and trauma.
Dr. Pruitt recommends that for children it is most prudent to choose a toothpaste with an RDA value of 100 or less. The RDA values for many popular toothpastes are available from multiple sources online including this one:
https://hygienewize.com/wp-content/uploads/2017/06/Abrasive-Value-.pdf
It looks like most types of "kids" toothpaste fall below this threshold, though it was enlightening to see the relative differences from brand to brand. Perhaps my biggest takeaway was the level of abrasiveness of the whitening toothpastes I usually use.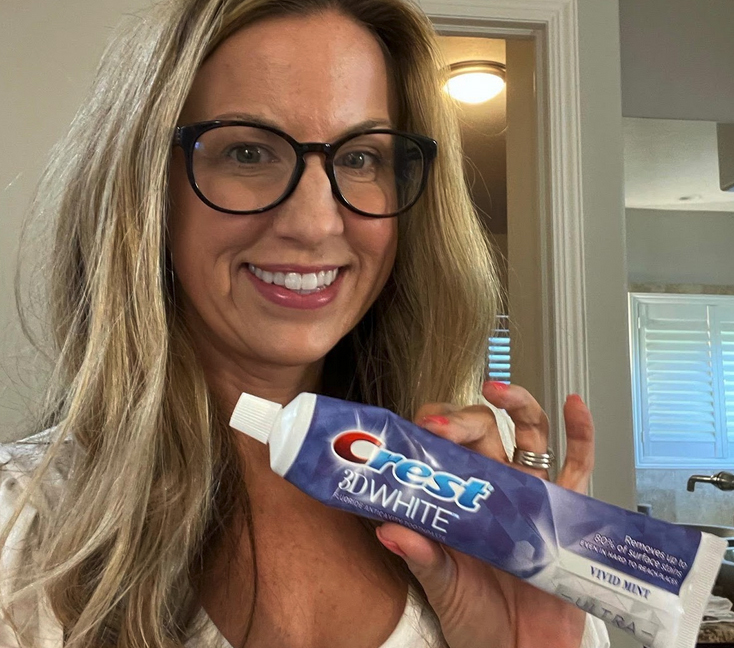 (Darn, yet another way today's vanity conflicts with long term health…isn't that just the way it goes sometimes??)
And, although I may not be quite ready to give up my teeth whitening habits, it seems pretty clear to me that I should be buying something much less abrasive, even for my older kids, whose relatively new permanent teeth have a lifetime of wear and tear ahead of them.
Just a little food for thought the next time you find yourself in the toothpaste aisle. As a parent, I love when a little extra info can help me make better decisions (without really any extra work at all!). For more great tips on caring for your child's teeth, check out the Feeding the Family podcast episode with Dr. Christina Pruitt.