This is an easy, inexpensive, delicious dinner for anyone looking to incorporate more vegetarian meals or just something new into the rotation!
My second son is our most eco-conscious and, although he loves a good steak, has been expressing more interest in eating less meat. While it can be difficult (though certainly not impossible!) for kids to get optimal nutrition from a strictly vegetarian diet, incorporating more plant-based meals can reap benefits for both our health and our environment.
If you are interested in learning more about ways you and yours can live a more eco-friendly lifestyle, I highly recommend checking out the Podcast I did with Dr. Katie Durrwachter (link). Simple changes like reusable water bottles and Meatless Mondays can go a long way!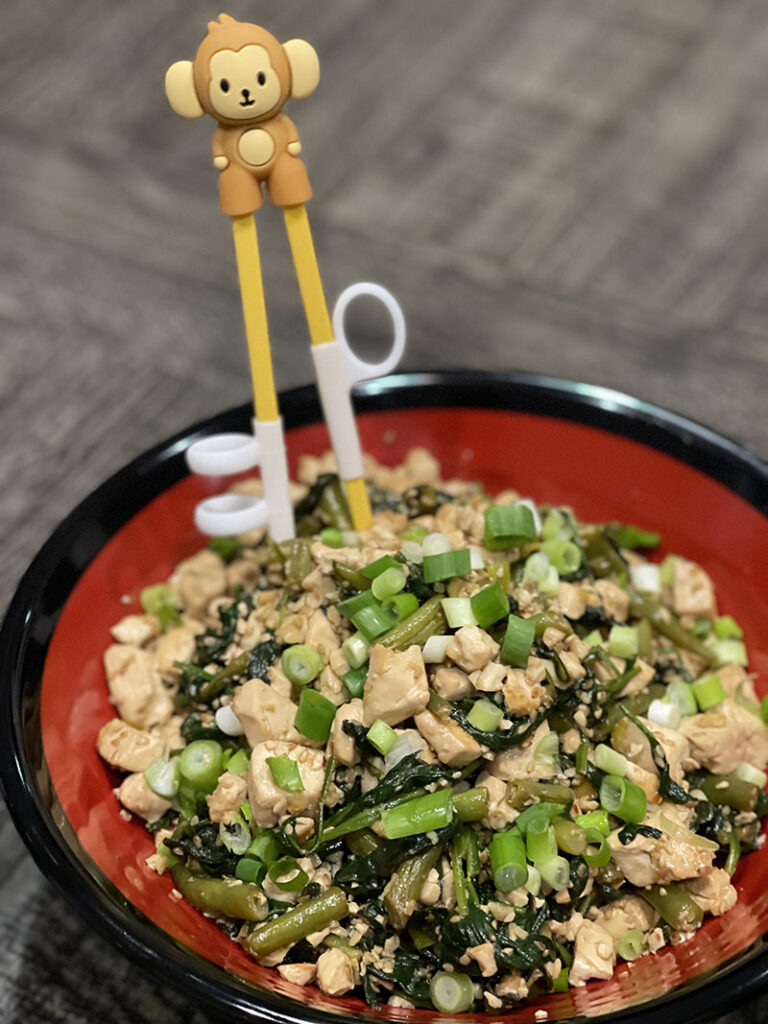 Speaking of meatless, let's talk tofu.
Tofu is one of those foods that may seem a little "weird" to work with if it's something you aren't used to, but if you use the Extra Firm variety it maintains a texture that is pretty meat-like –if that is what your family is used to. In fact, my oldest son who is a self-proclaimed meat-enthusiast kept asking me if this tofu was, in fact, chicken or pork.
One of the best things about tofu is that it soaks up the flavors in its environment. That means that if you love this meal, you can pretty much guarantee that the leftovers you take for lunch tomorrow will be even more flavorful!
Consider this a good "gateway" into tofu if you are looking for the family buy in. I generally think that honesty is the best policy, but if you have to tell them it's chicken…your secret is safe with me.
3 (14 oz) packages extra-firm tofu
2 Tbsp canola oil
6 tablespoons low sodium soy sauce
5 cloves garlic, minced
1.5 cups fresh green beans, chopped
1 bunch green onions, chopped
2 Tbsp grated ginger
10 oz fresh baby spinach
2 teaspoons chili paste (Sambal Oelek)
4 Tbsp sesame seeds
4 tsp sesame oil
Serve with:
Rice (brown, white, cauliflower)
Noodles (soba, rice, ramen)
Instructions:
Remove as much liquid as possible from the tofu. Do this by wrapping each block in a paper towel, patting it dry, then gently pressing down on the tofu to squeeze out as much excess moisture as possible. Try not to press down so hard that you break the tofu block (though, if you do…it's not the end of the world).
Cut the tofu into ½ – ¾ ince cubes.
In a large skillet, wok, or pot heat canola oil over medium-high heat.
Add tofu, green beans, and 2 Tbsp of soy sauce to pot/ wok. Saute while gently stirring occasionally until tofu is starting to lightly brown and liquid in pot is starting to cook off (about 10 minutes). Do not stir too much as this will break up the tofu cubes and prevent them from getting brown.
Add garlic, ginger, chili paste, remainder of soy sauce, and most of the green onions (reserve a small handful for garnish).
Saute for an additional 1-2 minutes.
Gradually add spinach to the pot. It will seem like a lot at first, but will wilt down quickly so you can add more.
When spinach has wilted down, add sesame seeds and sesame oil. Remove from heat.
Garnish with remaining green onions. Serve over rice or noodles. Add additional soy sauce or chili paste to taste!